Book Fanmix
"Penryn and the End of Days"
–
A Series Fanmix
By Samantha Shrider / July 27th 2018
First I want to give a huge shout out to Zakiya, over at
To Borrow or Buy
for suggesting I read the "Penryn and the End of Days" Series by Susan Ee. Since the last book in the series was published in 2015 I decided not to do full reviews for each other book but instead do a breakdown of the series and post a fanmix of songs I enjoyed listening to while I read it.
---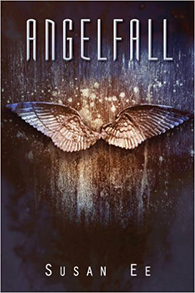 Angelfall, the first book in the series opens with the MC Penryn taking care of her family, even though she's still a child herself at 17. Her father has abandoned them, her mother has a severe mental illness, and her seven-year-old sister is paralyzed from the waist down. It's completely up to Penryn to keep them alive and safe during the biblical apocalypse.
As they go to escape their apartment, they're confronted by an angel, Raffe, being attacked by other angels and having its wings removed. Though Penryn doesn't want to help Raffe, she must keep him alive and rely on him to lead her to the other angels when one of them abducts her little sister.
The book is fast paced and full of witty banter as the two characters from different worlds must learn to trust each other so that they can both get back the one thing they love more than anything.
I'm going to try to avoid spoilers, but the second book picks up immediately after the first. It's a new world and Penryn must find out what her place is in it while also trying to find out what happened to her sister while she was in the care of the angels. The book had my heart beating out of my chest and I found myself wanting to skip to the end just to see what happened for the second time in my life (I didn't, but I wanted to.)
In the conclusion Penryn and Raffe must both make sacrifices in order to save their people. The humans  must make a final stand against the angels, and the angels must decide who they're following and if it's worth a second fall. Heart wrenching and inspiring, I couldn't get enough of these characters or this story, and I highly recommend everyone read it.
THE FAN MIX
Listen Here
(Does not include Imogen Heap's rendition of "Hallelujah")
The Track List:
In the Woods Somewhere – Hozier
"I raised myself
My legs were weak
I prayed my mind
Be good to me
An awful noise
Filled the air
I heard a scream
In the woods somewhere
A woman's voice
I quickly ran
Into the trees
With empty hands"
Listen during "Angelfall" chapter 22-23
I know You Care – Ellie Goulding
"Oh, but I know you care
I know it is always been there
But there is trouble ahead I can feel it
You are just saving yourself when you hide it
Yeah, I know you care
I see it in the way that you stare
As if there was trouble ahead, and you knew it
I'll be saving myself from the ruin"
Listen during "Angelfall" chapter 43-44
Cosmic Love – Florence and the Machine
"The stars, the moon, they have all been blown out
You left me in the dark
No dawn, no day, I'm always in this twilight
In the shadow of your heart
I took the stars from our eyes, and then I made a map
And knew that somehow I could find my way back
Then I heard your heart beating, you were in the darkness too
So I stayed in the darkness with you"
All of Book 2: World After
Drive – Halsey
"Your laugh, echoes down the hallway
Carves into my hollow chest, spreads over the emptiness
It's bliss
It's so simple but we can't stay
Over analyze again, would it really kill you if we kissed
All we do is drive
All we do is think about the feelings that we hide
All we do is sit in silence waiting for a sign
Sick and full of pride
All we do is drive"
End Credits Book 2: World After
Hallelujah – Imogen Heap
"Well, maybe there's a God above
But all I've ever learned from love
Was how to shoot somebody who outdrew ya
And it's not a cry that you hear at night
It's not somebody who's seen the light
It's a cold and it's a broken Hallelujah
Hallelujah, Hallelujah
Hallelujah, Hallelujah"
Listen During "End of Days" Chapter 58
Warriors – Imagine Dragons
"Here we are, don't turn away now,
We are the warriors that built this town.
Here we are, don't turn away now,
We are the warriors that built this town
From dust.
Will come
When you'll have to rise
Above the best and prove yourself,
Your spirit never dies!"
Listen During "End of Days" Chapter 61
Sinners – Lauren Aquilina
"Our lives are stores, waiting to be told
In search of silver linings, we discovered gold
And judgment taught us that our hearts were wrong
But they're the ones that we'll look down upon
The rules say our emotions don't comply
But we'll defy the rules until we die
So let's be sinners to be saints
And let's be winners by mistake
The world may disapprove
But my world is only you
And if we're sinners then it feels like heaven to me"
Listen during "End of Days" Chapter 70
BONUS TRACK
I Bet My Life – Imagine Dragons
"I've been around the world and never in my wildest dreams
Would I come running home to you
I've told a million lies but now I tell a single truth
There's you in everything I do
Now remember when I told you that's the last you'll see of me
Remember when I broke you down to tears
I know I took the path that you would never want for me
I gave you hell through all the years
So I, I bet my life, I bet my life
I bet my life for you
I, I bet my life, I bet my life
I bet my life for you"